Parking Assist Installation
Install your own front parking assist system! Parts cost was less than $100, but it took quite a bit of effort. I've documented the process I used with lots of photos at:
http://teslatap.com/modifications/parking-assist-installation/
Here's the what the installed display looks like with a very close object on the left front and another object a little more than 2 feet from the right side front.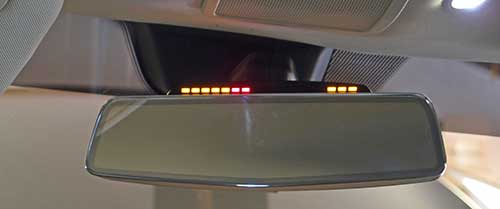 When there is no object in front the display it is dark and you don't even notice it.
The biggest surprise was the black front bumper has molded places where the sensors go, and the steel frame behind it has cut-outs for sensors. There are no existing wires, but Tesla is clearly thinking about the future. I doubt a future option from Tesla will be offered to existing cars due the complexity of the wiring. Anyway, I didn't want to wait for something that may never be available for retrofit.